OFFICIAL COURSES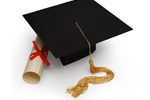 Stenco performs periodically for more than 20 years Official Courses of Operators of Industrial Boilers according to the requirements of Industry. Likewise, it has been carrying out official Legionella courses for more than 10 years, according to the Health requirements, for hygienic-sanitary maintenance operations in risk facilities: spas, sanitary water, cooling towers and Official Public Swimming Pool Maintenance Operators Courses according to the new Royal Decree of the Ministry of Health.
---
COURSES AND TRAINING SEMINARS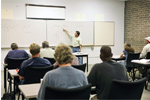 In addition to the official courses required by the Water Administration, we have been conducting periodic seminars and seminars throughout Spain for over 20 years on technical aspects of control, purification, reuse and water treatment, both for the industrial sector, as for service, maintenance and / or engineering companies.
---
E-LEARNING – DISTANCE COURSES
Stenco has designed part of its training courses to be conducted remotely with e-learning using a training platform and own virtual classrooms through the Internet. This new form of training, thanks to the new ICT, allows an alternative to those students who, due to their work or distance, can not attend the scheduled course in person.
---
TECHNICAL AND LEGISLATIVE SESSIONS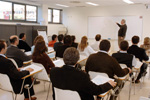 We periodically carry out technical and / or legislative news conferences on topics of interest to our customers related to water and the environment throughout Spain.
---
---
---